Get Involved
The existence of the Beaver, Cub and Scout groups is only possible because local people run them. People just like you. There are a whole range of activities you can get involved with - you don't have to know your knots! There are many different roles — whether it's some admin for the committee, helping out with activities, or even running a group as a leader — so there is something that everyone can do to help. Scouting is a very rewarding activity and we're a great bunch of people too. We'd like to meet you whatever your background and whatever your skills - everyone is welcome.
Leader Stories
Here are some stories from some existing parents and leaders on their involvement with 1st Histon Scouts.
Chris, Assistant Cub Scout Leader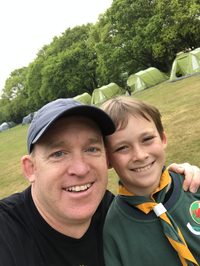 When my son moved from Beavers to Cubs in 2015, he was hesitant about going to Cub camp with "all the older kids". Because of my own happy childhood memories, I was keen to encourage him to try it, so volunteered to be there as a parent helper. When the time came six weeks later, he had a lot of new friends and renewed confidence so no longer needed (wanted?) me to go. This wasn't going to stop me though! Seeing how much fun the children (and Leaders!) had made me want to help out more, so I became an Assistant Cub Scout Leader (aka Shere Khan). I haven't looked back since.
Richard, Group Scout Leader
My own Scouting career started at 10 and finished at 10 and 1/4 as I didn't enjoy Cubs, however the seed was sown. Having moved to the village with young children and hearing how good Scouting was I put my children down on the list for Beavers. They were offered a place as long as I became a Leader, that was in 2005, and whilst I have held a few different roles since then, I'm still a Leader and loving every minute of it.
Dan, Assistant Beaver Scout Leader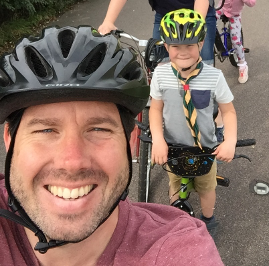 Since attending Cubs, Scouts and what was Venture Scouts in my youth I'd been wanting to give back a bit to help youngsters in the village get the amazing experiences and grow like I did through my membership of the Scout movement. I still remember fondly my first night away from home with Cubs, fending for and feeding myself at Scout camps and all the activities I got to try out. My own children reaching Beavers age (6-8 year olds) spurred me into action and I joined, initially as a volunteer, then formally as an Assistant Beaver Scout Leader in 2017 (I'm known as 'Ratty' to the Beavers), and I haven't looked back. You still get to have a go at all the amazing activities as a Leader too!
If you can help, please contact us, and let us know how you'd like to be involved.